As a landlord, a tenancy agreement is a very important document. It is not only designed to protect your tenant's rights, but it is vital in terms of protecting your own rights as well. However, if you have landed on this page, you probably already know that and it is too late. The last thing you need is a lecture, right? So, don't worry. We will talk you through what you can do.
There are a number of reasons why you may not have a tenancy agreement in place. This could be because one was never signed to begin with. Perhaps you knew the person prior to them letting your property, and believed it was not necessary? Maybe you simply never got around to it? There are also cases whereby the tenancy agreement was signed, but then it got lost. No matter what applies, we will talk you through how to evict a tenant without a tenancy agreement in the UK.
How to Evict a Tenant Without a Tenancy Agreement
With no tenancy agreement, you may be wondering what your rights are, and what steps you can take to evict a tenant. Let's take you through some of your options:
1. Try and talk to the tenant
The first port of call when it comes to evicting a tenant without a tenancy agreement is to speak with the tenant. Try to have a fair and reasonable conversation. Explain that you need them to leave the property within a certain number of days, and try to find their position on the matter. It is always best if you can come up with an understanding together. Of course, it is not always possible, but it is always best to try going down this route before you need to take legal action. Make sure that the client is aware of how serious the situation is. 
2. Send an official notice in written format and via email, and keep copies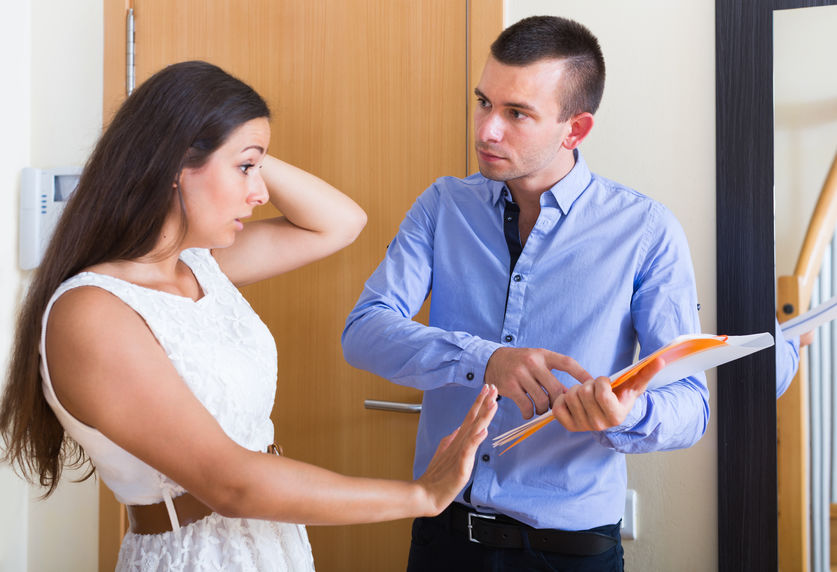 You made the mistake of not having a tenancy agreement once, so do not make the mistake of failing to send and keep physical copies of your notice. It is a good idea to send this information via email and also by letter, so you have covered both possibilities. Nowadays, you can find some excellent letter templates online, so you should easily be able to find a notice of eviction template that you can use for yourself. You can then customize this and send it to the relevant party. Make sure you keep copies for yourself, and that you sign and date them too. 
3. Explore your options
If your reason for wanting to evict your tenants is because they are behind on their rent, you may be able to get the rent paid directly to you rather than evicting them. This is the case if your tenant claims Housing Benefit or Universal Credit. If this applies, and your tenant owes you rent, it is possible to get the rent paid directly to you rather than evicting your tenant. This is what is known as 'managed payments.' how you go about requesting managed payments will depend on the type of benefit that your tenant is claiming. For example, if your tenant is paying Housing Benefit, you can contact the local council that currently pays the benefit to your tenants. If your tenant claims money through Universal Credit, you can get in touch with the Department for Work and Pensions to find out more about making an application. Of course, it is a good idea to discuss this with the tenant first. You may find that this is something that would work for your tenant and it could even be a relief for them if the only issue between you both is the tenant's struggle to pay their rent. 
4. Get in touch with a lawyer
If your tenant is refusing to leave your premises, despite the fact that you have instructed them to do so and given them notice, you will need to get in touch with a legal company who can help you to raise this with the courts. The lawyer will be able to apply to the court for a possession order. There are a number of different types of possession orders, so your lawyer will be able to determine which one is right for your current situation. For example, a standard possession order is suitable if your tenants owe you rent and they have not left your property by the specified date given on the notice. There is then an accelerated possession order that can be applied for when landlords do not claim any of the rent that has been unpaid. If your tenants will still not leave, applying for a warrant for possession is another option. This means that bailiffs are allowed to remove your tenants from your property.
5. Hire a security company to help you evict your tenant

For some people, the threat of the law is enough to get them moving and to leave your property. Unfortunately, there are those who will stay put until they are physically removed, which is when you need to hire a security company that offers a specialized service for evicting tenants. Evicting tenants from a property is something that only experienced and reputable security firms should do, as there is a process in place that needs to be adhered to. The last thing you want to do is get yourself on the wrong side of the law because the security firm you have hired has followed untoward practices when it comes to evicting the tenants in question from your property.
Contact a Professional Eviction Team
Evicting a tenant without a tenancy agreement is not easy, but with the right professional help, you can make sure the situation goes as smoothly as possible. Simply give the team at Mec Security a call today for more information. You can reach us on 01277 376080. Alternatively, send an email to info@mecsecurity.com and we will get back to you as soon as possible.