CCTV refers to Closed Circuit Television, which is a form of video-based surveillance. It is characterised by a singular camera, or a network of cameras, which transmit a signal into one specific point, where it can be reviewed by the operative. Many people have seen cameras around buildings or in the public domain and wondered 'what is CCTV?' while being unsure of exactly what the purpose and reach of it is. As the coverage and the ubiquity of CCTV networks continue to spread, it's good to be fully aware of what the technology can do and how CCTV works.
How Does A CCTV Camera Work?
CCTV does not operate the same as broadcast television that you may be used to watching at home. The technical difference is that the signal is not openly transmitted, although frequently it uses point-to-point relay, or wireless links, to transmit it's information. Most standard video camera use the same technology, but the CCTV meaning really refers to those networks of camera used for surveillance activities in areas which have a security need. This includes sites such as banks or retail outlets, transport hubs and private company premises. Public surveillance using CCTV networks is a common occurrence in most countries around the world.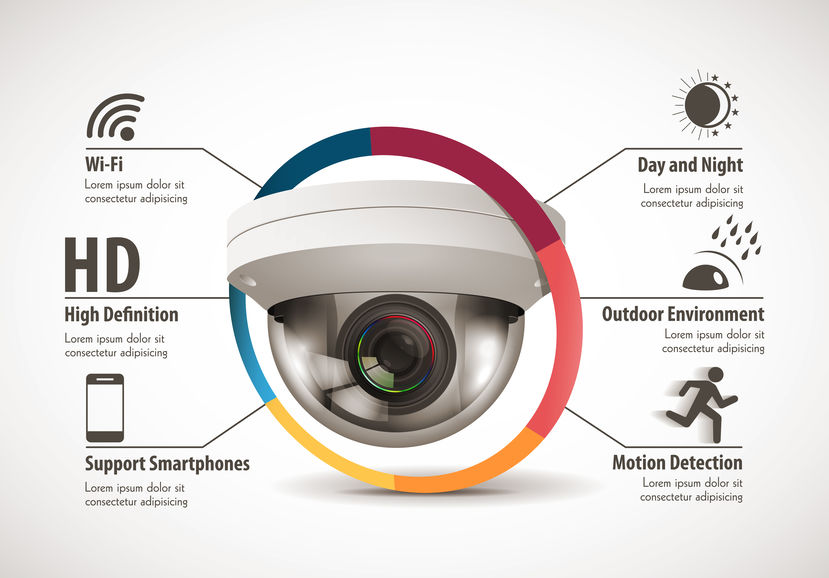 This is commonly used alongside body mounted cameras of the type often worn by law enforcement officials, and sometimes private couriers and other types of workers whose employers may have a need to review their interactions for reasons of accuracy or safeguarding. There has been a lot of public debate over the last few decades about the individual's right to privacy versus the level of CCTV scrutiny which is now commonplace.
How Legal Is CCTV?
The short answer is that CCTV is generally legal when applied in the correct way. There are guidelines governing it's use set out in the law of most developed countries. On your own property at home, you don't need legal permission to operate a CCTV network. However, you do need to alert neighbours if parts of their property can be seen on the recordings. If you are a tenant as opposed to an owner, the landlord's permission is required. And if you operate a CCTV network as part of your business, then you will need to make sure employees and visitors are aware that they are being filmed.
How Was CCTV First Developed?
CCTV was first developed in its most primitive format way back in 1927 by a Russian physicist called Leon Theremin. Developed for the Soviet Department of Labor and Defence, it was made up by a scanning-transmitting camera and a wireless transmitter and receiver. After being demonstrated to Joseph Stalin, the system was put into the courtyard of the Kremlin in Moscow and used to monitor visitors, as a tool of government surveillance. It wasn't until 1949 that the first commercially available system, called Vericon, was made available in the U.S.
How Has CCTV Continued To Develop?
Since it's origins at the dawn of the 1950s, CCTV has developed for many uses. One of it's best applications has been when it is used to observe a situation or process where the environment would be unsuitable for humans, such as in a chemical processing plant. In recent years, CCTV has developed to use DVRs or Digital Video Recorders, which have the capacity to film remotely for many years, doesn't require a human to man it, and can offer enhanced features such as motion sensing or triggered email alerts. These can record directly to a cloud network or an internal drive and offer a completely standalone way of monitoring an environment.
How Can I Install CCTV?
There are several different types of CCTV available for use, and how to install CCTV will depend on which of these you choose. Wifi CCTV cameras, especially those are battery powered, provide more flexibility and are easier to install. Wired PoE IP cameras, on the other hand, require a more complex installation but give a stable network signal.
There are more cabling and drilling involved, especially as they are usually attached to brick surfaces. Security experts suggest installation at front or back doors or on a street view as the best locations for CCTV cameras. When it comes to how to work CCTV camera system, most modern systems connect to an app on your smartphone. There you can access a full range of features, such as the ability to zoom in or out, setting motion detection zones, viewing a live feed and setting alerts up for certain triggers.
How Much Does CCTV Cost?
The cost for installing a CCTV network is quite variable, so it can be hard to obtain an exact pricing without a detailed specification of the job. First, decide if you want to employ a CCTV company to take care of the installation, or whether you will be aiming to install CCTV yourself. Either option is perfectly possible, it just depends on the level of comfort you have with setting up technology and in the case of a wired camera, DIY. If you decide to find a local CCTV company to take care of it for you, it's worth calling around to compare several quotes, because prices will be different depending on the supplier. If you choose to go it alone, consider the set-up which will best suit your needs. A basic camera without any internet access can be had for around £150, but often it's worth paying a little more for a mid-range system, as you can get quite a lot of extra technology, such as remote web access, for a proportionately little extra. It's important to opt for a fairly high definition image quality, as anything less than 1080P may give you blurry footage that is hard to make out details with. You will be looking at around £300 for a system with decent resolution. Of course, there is now available ultra 4k definition, but you may not want to pay for that, and for home use, it's probably not necessary. So the question of how much does a CCTV system cost very much depends on the quality selections that you make. A mid-quality set-up with several cameras is likely to cost around £400-500 for the hardware, and the same again for installation. Some home security systems come with an online storage package, where all the footage you capture is stored remotely in the cloud. For these systems, there is usually an additional monthly or yearly cost associated with the storage.
What Could I Use CCTV Footage For?
Fairly often, the question comes up of can CCTV be used as evidence. After all, we install these cameras in our homes with the intention of safeguarding our families and our property. We are all used to seeing CCTV footage on the news, released by police to help appeal for information or to support a criminal investigation. Usually, the footage that we see here comes from public cameras – CCTV systems in hospitals, high streets, shops or car parks. So can CCTV footage captured by a home camera system be used in criminal court proceedings? The answer is a bit of a double edged sword – while CCTV can be used in court if it comes from a private network, the manner in which it was filmed must comply with certain regulations in order to be admissible evidence. It is possible to fall foul of the Data Protection Act when you film on CCTV. If your home security system records on any space that falls outside of your property, for example, a public street, or your neighbour's gardens, then it must comply with these legal restrictions. These are – not to invade anyone else's privacy by filming their private property, to have clear and well visible signs stating that CCTV is in operation in the area, to only use the footage for the purpose it was taken (this means suspicious activity and not just monitoring people with general surveillance) and to only store for the footage for as long as is necessary. It's also important to ensure that there are clear time and date stamp on the footage and that it's stored securely so it cannot be tampered with in any way – which is my CCTV systems with cloud storage can be a good idea. In addition to this, you are almost always not allowed to record audio outside your home using CCTV. This means that conversations between people caught on CCTV cannot be used as court evidence. All CCTV footage used in a criminal prosecution must be processed through the correct legal channels and given over to the police.
There are many good reasons to install CCTV on your property. A mid range system can be had for a great price, and if you comply with the correct regulations, can be used to keep your home and your family safe. Simple to install and easy to operate, buying a home CCTV system could be the best move you ever make.
---